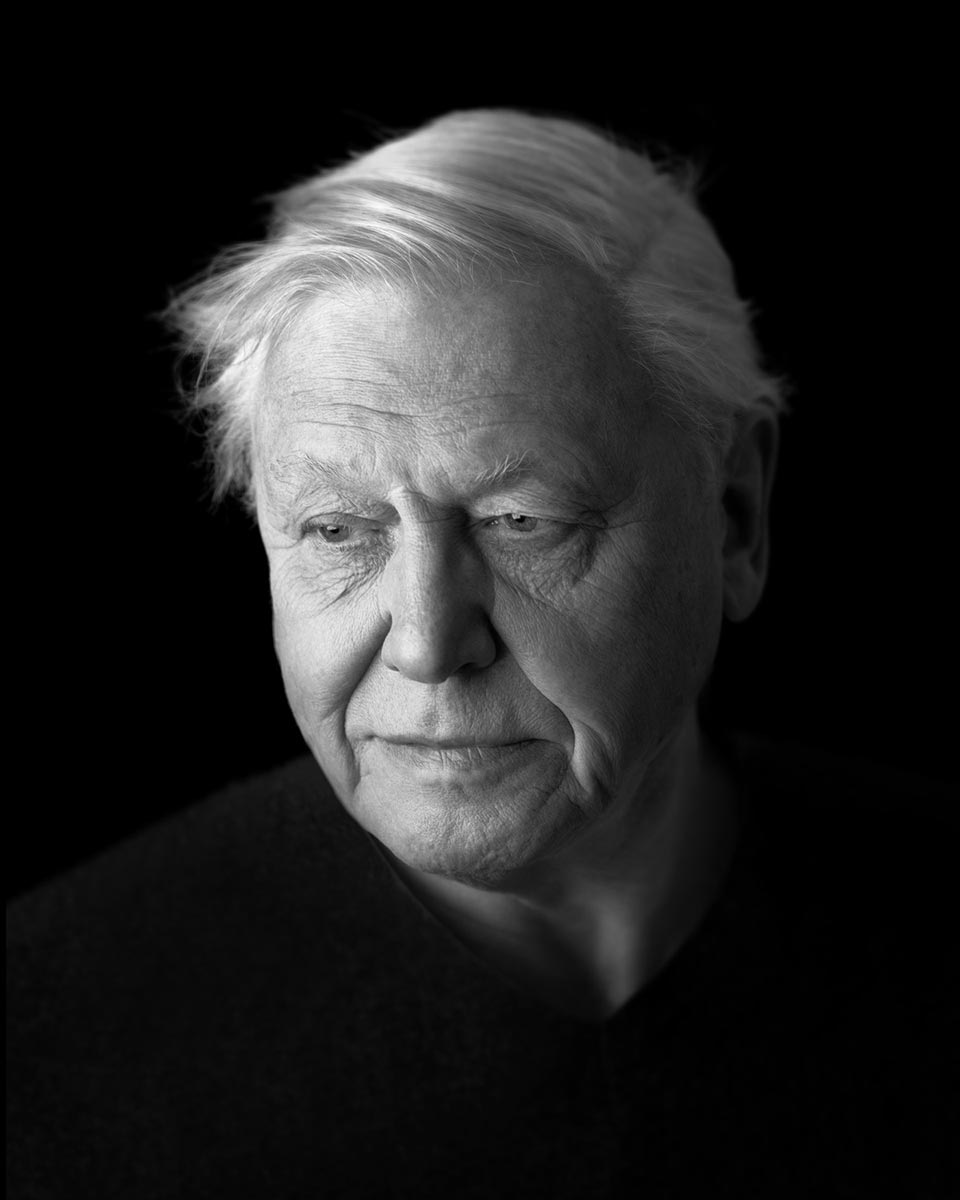 Sir David Attenborough by Richard Boll/ Commissioned by The National Portrait Gallery, London
In 2007, I had the privilege of taking this photographic portrait of our nation's favourite, Sir David Attenborough, in London. Of the photographs I took I chose this particular image for the final portrait as I think it captures the calm, thoughtful, and highly intelligent nature of his character. There's a reflective, meditative element to the portrait that I hope represents him effectively. I'm proud to say that this portrait went on to form part of the permanent collection at the National Portrait Gallery, leaving a fantastic ongoing legacy for my work and professional photography career.
Although some time has passed since that day, I can still vividly remember how I felt at the time. It was an exciting and enjoyable shoot, as Sir David was someone I had always admired and respected. People often ask how I came to take the photograph in the first place and what it was like to meet Sir David.
Joe and The National Portrait Gallery Photographic Prize
It was a lovely, sunny day on Brighton seafront. I spotted Joe, taking his dog for a walk along the promenade past my flat. I thought he looked like a very cool and interesting character and I asked if I could take some portraits of him. Joe was very happy for his portrait to be taken and gave me a few minutes of his time. We've kept in touch and maintained a positive connection over the years since the photograph was taken. I entered this portrait of 'Joe' into the prestigious Taylor Wessing Photographic Portrait Prize, awarded annually by the National Portrait Gallery. The competition celebrates and promotes the very best in contemporary portrait photography. It was very exciting to be awarded first prize in the competition. I knew I'd been shortlisted but only found out that I'd won on the evening of the prize-giving.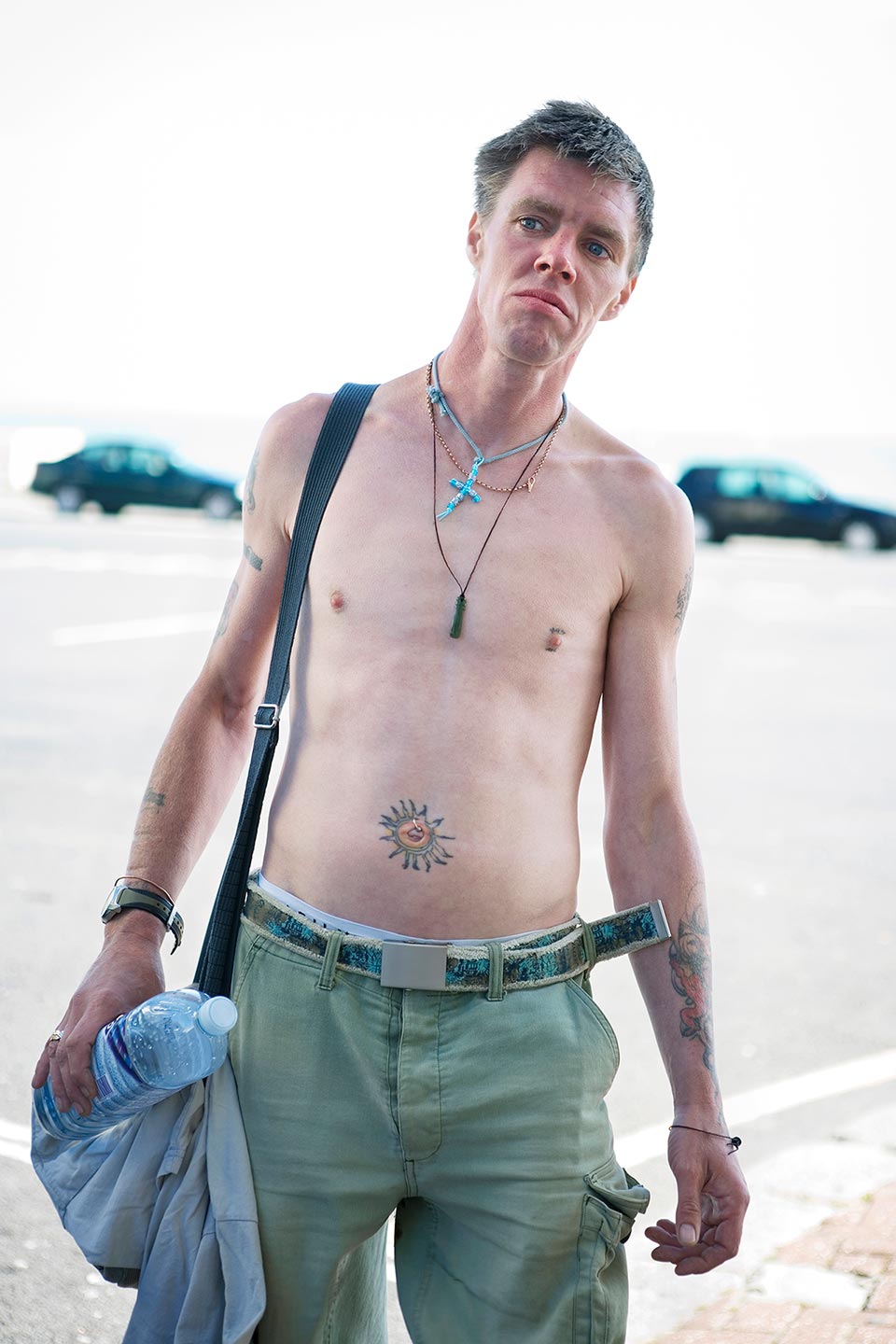 Prize-winning photographic portrait of Joe on Brighton seafront
Britain's Greatest Living Cultural Icon
After winning the portrait prize, the National Portrait Gallery arranged a special opportunity for me, to take a photo of the winner of a public vote for 'Britain's Greatest Living Cultural Icon'. 10 British icons including the likes of David Bowie and Sir Paul McCartney were shortlisted. The public voted overwhelmingly for Sir David Attenborough, and I'm pleased to say that I also voted for him. Thankfully, he agreed to be photographed after the result of the poll was announced. On the day of the shoot, he was extremely polite and very generous with his time. He patiently allowed me to take several portraits against a couple of different backgrounds.
I'm incredibly proud of the final image and people respond well to it, recognising what I was trying to capture of Sir David's character and legendary status. There was never any guarantee that the portrait would be accepted for the permanent collection at the National Portrait Gallery which makes me particularly proud that it was sufficiently well-received to be accepted, ensuring a great ongoing legacy for my work.
Sir David Attenborough awarded Knight Grand Cross
Sir David Attenborough needs no introduction, enjoying a very distinguished broadcasting career, spanning the last 60 years when he
first joined the BBC.
Best known for writing and presenting his many acclaimed television documentaries exploring the natural world, including Life on Earth, The Living Planet, and The Blue Planet, he received his first knighthood in 1985 from the Queen.
In recent news, Sir David, now 96 years old, received a 'second' knighthood, the even more prestigious Knight Grand Cross from Prince Charles. Attenborough is one of only 120 people with this honour, which was awarded for his services to television broadcasting and
conservation. Let me end with some final words from Sir David himself, "I just wish the world was twice as big and half of it was still unexplored".
Click here if you'd like to read more about Attenborough and his career, and more of my portrait photography can be seen here. Signed, archival-quality prints of the portrait can be purchased here.